To Paul: this is how you spent the day you turned 1 month old.
At 1:30am, you start to squawk, and Dad lifts you out of your bedside bassinet for a diaper change. You've been asleep for nearly 5 hours—not bad at all. Dad lays you down next to me in bed, and you nurse frantically, then steadily, for a solid half hour. You get another new diaper and zipped into your swaddle sack on your way to the other side, and spend another half hour there.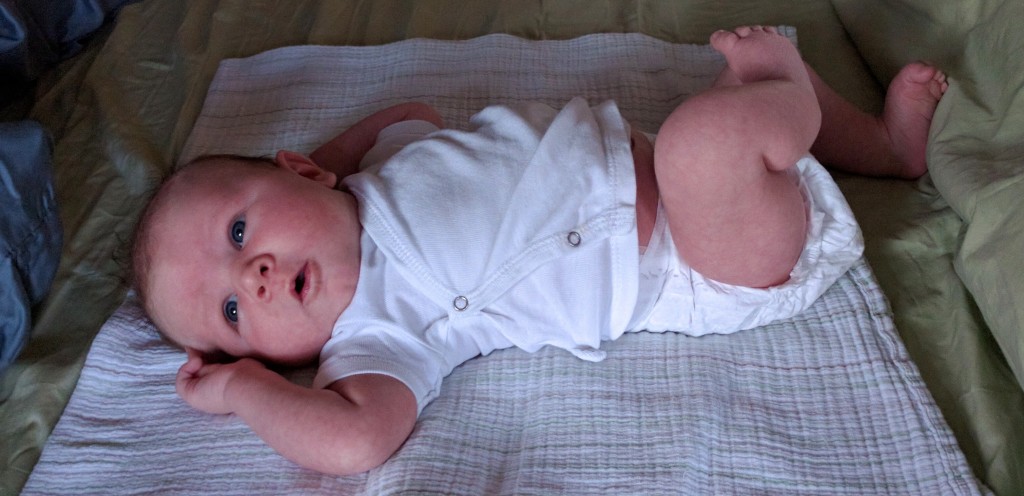 By 3am, you're back to sleep, but up again at 5:15 after some raucous pooping. You nurse and doze beside me; we both nap, cuddled up in bed; and then you're awake again for more feeding, and pooping, and wet-burping. You're in that fluid-focused phase of life. When it's finally a civilized time to get up, we head downstairs, and you sit in your swing and make eyes at the ceiling fan while your Dad and I have a quick breakfast. We relocate to the dining room when your sister joins us, and you sit in the crook of my leg, up against my chest, and cradled in my arms as we finish breakfast and read the paper. Annie points to you delightedly every few minutes ("Be-ee?") to remind us that you are here, and you are a baby.
We typically try to get you to sleep after you've been awake for an hour or so, when you're starting to get sleepy but aren't yet angry about it, so at 8:30 I zip you into your sack, put you in your bassinet, and start you rocking. Fifteen minutes later, you're asleep but need to keep rocking to stay that way.  It took you a few weeks to arrive at this point, but you are now officially a subscriber to the Always Be Jiggling philosophy. You nap for 45 minutes. Dad mows the lawn; I do a little yoga and return to find your eyes open. They say, "yeah, I could eat." You do.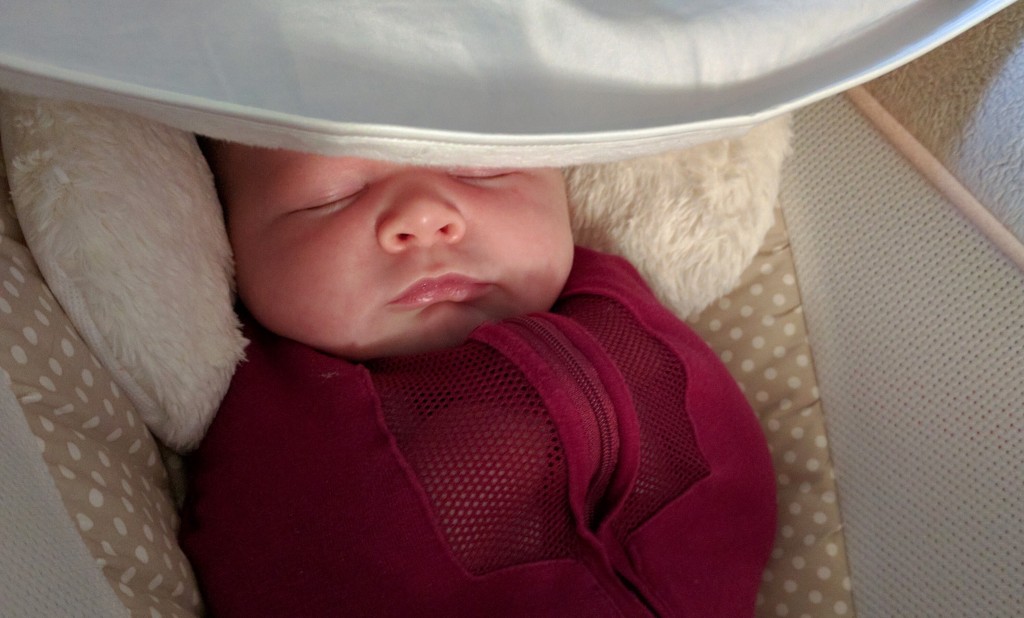 Dad takes over your care and attempts to rock you into a second and hopefully longer nap. You do not cooperate. We spend the afternoon rocking you into submission, feeding you, and entertaining ourselves as best we can. At 3 or so, you finally drop into a sound long nap.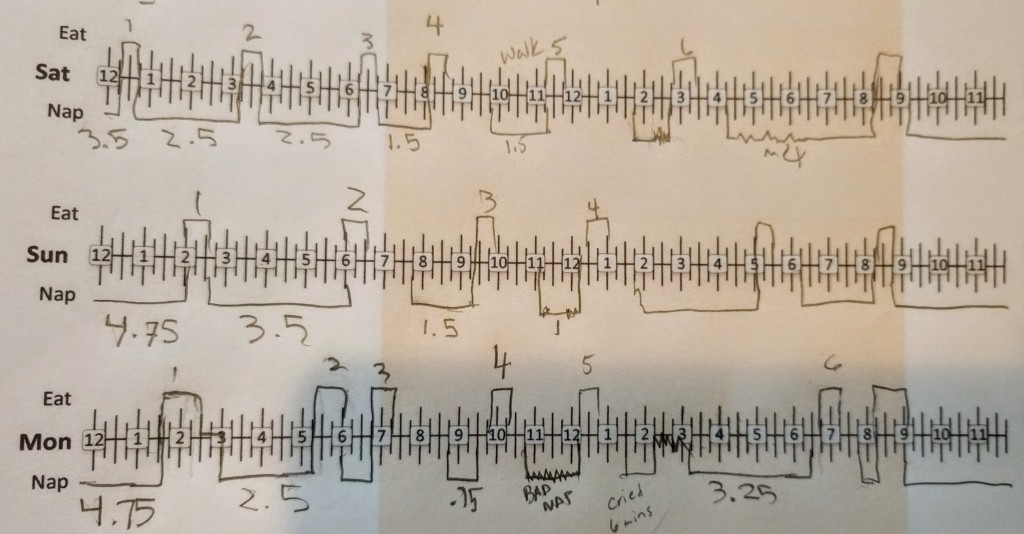 At 6:45pm, you wake up, and Dad feeds you a bottle (I'm off at a Board meeting) The two of you hang out and have another little nap before a final top-off meal. You make your goodnight at 9; we zip you into your swaddle sack, lay you in your puppy, and you drift off.
I feel pretty confident that next month's log will be more interesting.