To Annie: this is how you spent the day you turned 15 months old.
It's Sunday. You wake up leisurely and are out of bed at 7:45. After a cheerful diaper change, I set you in your highchair and present you with a breakfast of banana, cheddar cheese, and a little scoop of refried beans. The banana is gone before I manage to sit down myself, and you enjoy placing handfuls of bean mush on the top of your water cup and eating them from that surface—you've been entertaining yourself with this trick for a week or so and are very impressed with your cleverness. Yesterday I watched you use a small plate as a giant spoon-shovel to lift crumbles of feta cheese to your mouth. Eating utensils are a big area of experimentation these days. You also enjoy waving forks around in a cavalier manner than causes your father dismay, and clutching a spoon in one hand while you eat messy foods with the fingers of your other.
We get you dressed in your blue polka dot dress and your current favorite wardrobe item and word: SHOES! You can't get enough of them. We never realized how many shoes we had around the house until you started naming all of them.
The whole family heads out for a walk. I pull you in your new-ish red wagon; Dad and Sous walk beside us. We head to the park and throw the ball for Sous while you crow with delight every time she runs after it, and make a lap around the field. You're really quite a walker now.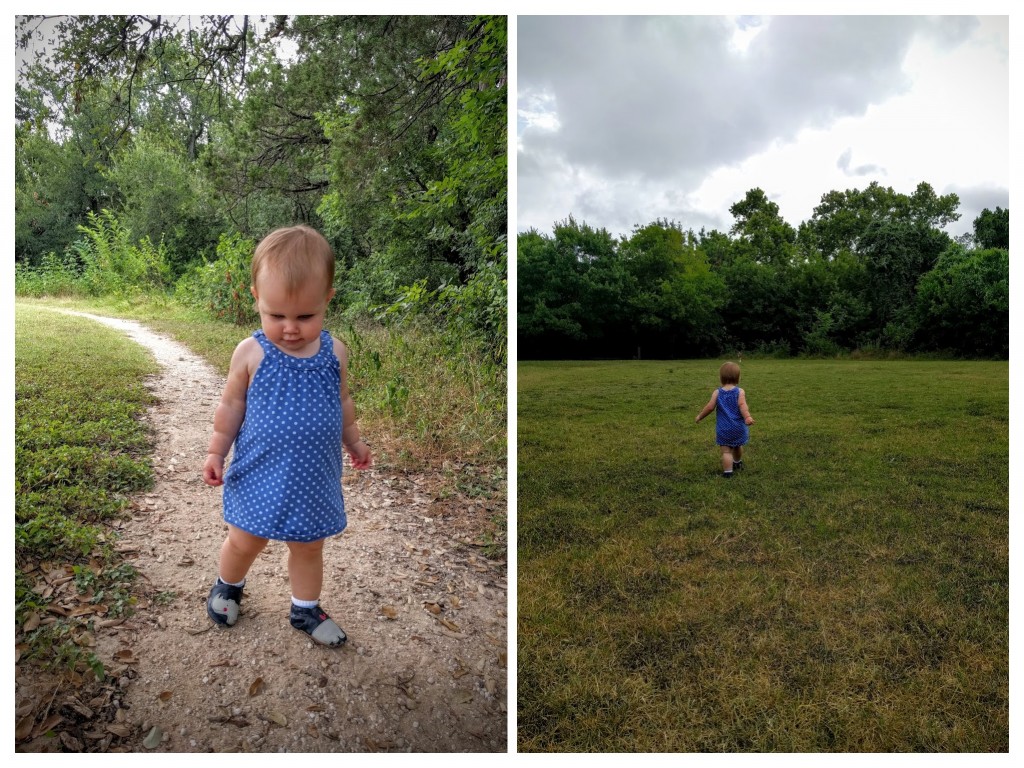 Back home, you carry a computer keyboard around the house and check out the look of it in different spots: on a step, on the coffee table, in the dishwasher. Sometimes I think 80% of your young childhood will be spent trying out every possible combination of putting things together and taking them apart, looking for that 1-in-1000 time there's a fit like a key in a lock, and something magical happens.
Around 10, I head off to a prenatal yoga class (this is almost certainly your last "10th of the month" as an only child, btw), and your Hall grandparents swing by for a short visit before they head back to Dallas. You flirt with Granddad and play chase around the house, then settle in for a lunch of barbecue leftovers and cherry tomatoes.
You nap from 11:30-1:15, then pop up for more playtime. We read Pete the Cat for the 40th-44th time (you've had it for 2 days—thanks, Auntie Peanut).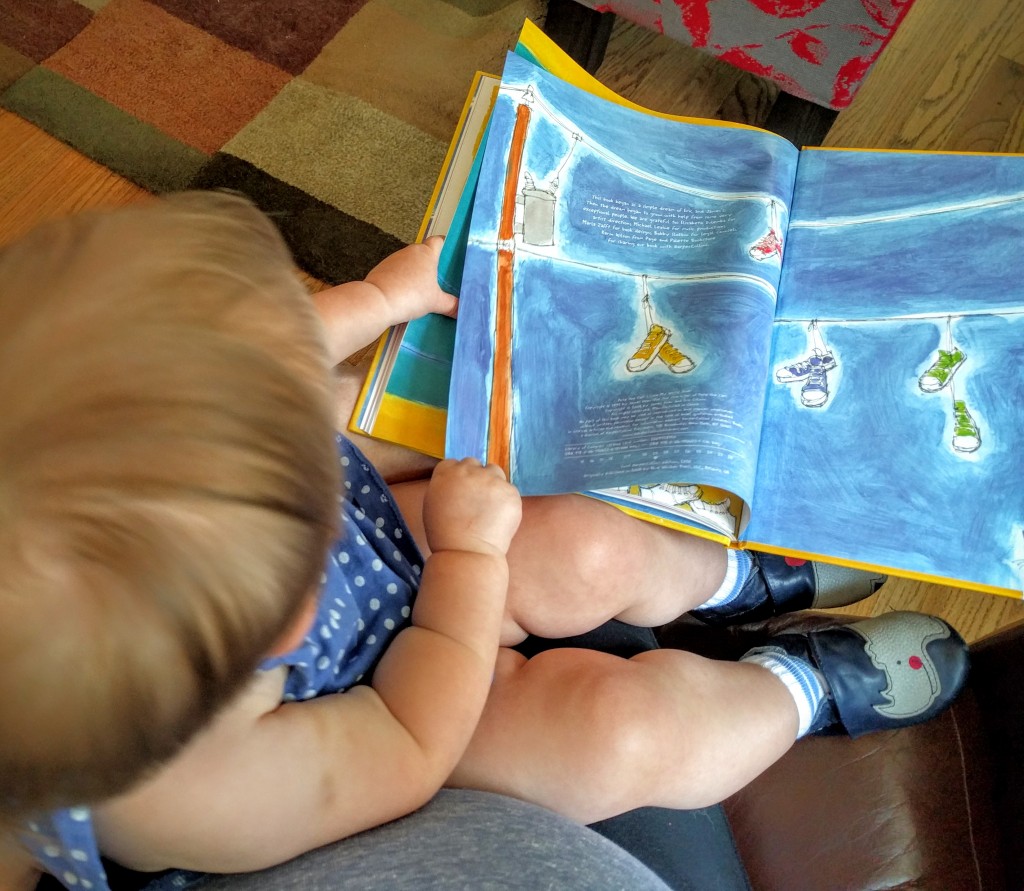 You romp around the bed while Dad and I fold laundry, and insist on putting on your pink dress when it shows up in the clean pile. While trying to get you to start a chorus of "shoe, shoe, shoe," I inadvertently capture a tender hug series with your dad.
A few minutes before 2, Charly arrives. She has grand ambitions to take you to the zoo, and prepares you with sunscreen and a snack of yogurt and banana. Then you're off! You ride in her backseat, which we've equipped with a carseat sunshade and portable fan to fight the summer afternoons' heat. At the zoo, you love riding the train but are not very impressed with all the sleeping animals, who are not dogs.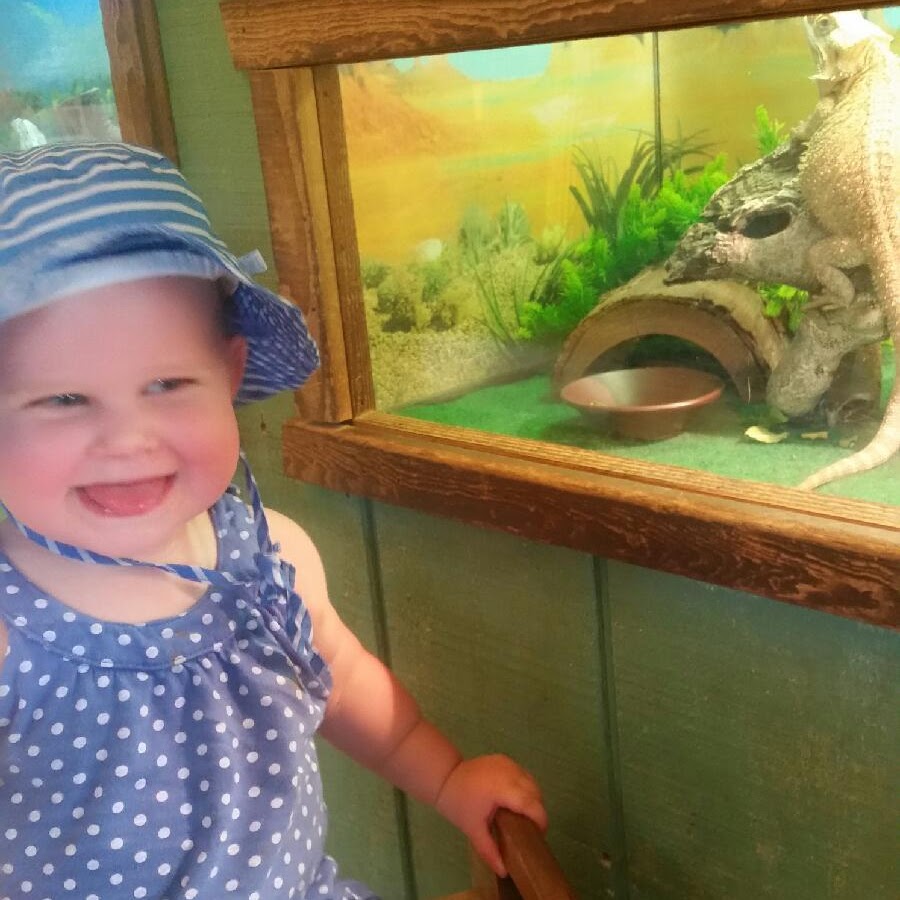 You two get home at 5, with a stuffed cougar cub Charly has bought for you and which we name, at risk of confusing you, "Shoe." You cool off and then march around the house on various toddler errands while Dad and I cook dinner.
At 6, dinner's in the oven, and I take over from Charly. We hang out upstairs, dabble a little more in Pete the Cat, and spend about 15 minutes opening and closing the bedroom door. Jealous of Dad, I ask for some hugs, and you generously oblige. Dad and Sous join us, and when we all lay down on the floor of your bedroom, you do, too. You do a little cruising around and exploring the contents of your drawers. (Clothes, mainly. Also, well, you know. Shoes.)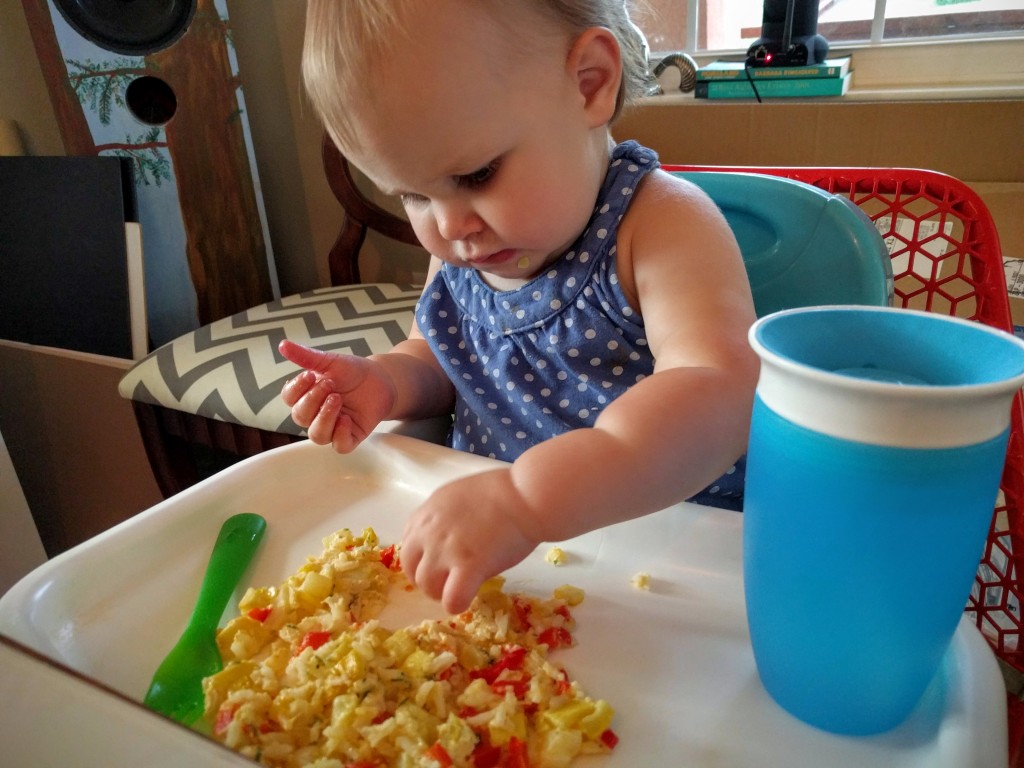 We sit down for dinner at 6:30 or so. It's a casserole with squash, bell pepper, rice, and cheese, and you devour it, occasionally leading us in a round of head tilts. Dad takes you up for bath time—still one of your favorite activities—while I tidy up. You play with the tap, as usual, and put up with Dad's removal of a hardened booger with admirable stoicism.
I swoop back in just in time for Goodnight Moon, an extra challenge now that I have no lap to speak of. You sit in a divot in my crossed legs while I stretch my arms out full-length to hold the book in front of you. I start your lullaby, but Dad has to take over to lay you in your crib since my belly precludes that, too. It's 7:15 when we close your door; you fuss gently for a minute or two, then wiggle your way to sleep.
(One year ago. My how things have changed.)